Is there a Slangit dashboard widget available for Mac?
Published October 11, 2011
•
Updated October 8, 2016
Yes, Slangit has developed a macOS dashboard widget that allows you to look up slang terms and emoticons directly from the macOS (Mac OS X) Dashboard.
NOTE: This is a legacy project from ChatSlang.com called the "Chat Reference" widget. However it still works with the modern Slangit website.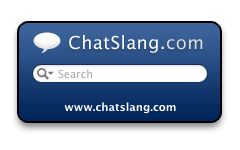 To download the Slangit widget, click the download link below.
Version Information
Version 1.3 (85KB) — Released February 3, 2012
---
Installing the Widget
If you are using the Safari, when you download the widget, you may see an alert that says "Chat Reference.wdgt is an application." Click Download to confirm the download process. The Slangit widget is compressed using PC ZIP compression. If you download the widget using Safari, the ZIP file should decompress itself automatically. Click Install when you are asked to install it and click Keep once the widget shows up in the Mac OS X Dashboard.
If you are using Chrome, Firefox, or another web browser, you may need to decompress the ZIP file using a program like Stuffit Expander. Once the file has been decompressed, double click the "Chat Reference.wdgt" file to add it to the Dashboard. Click Keep when the widget shows up in the Dashboard to activate the widget.
Using the Widget
Once the Slangit Widget has been installed, you can access the Mac OS X Dashboard by pressing the F3 key (or the Dashboard key on new Apple keyboards) or by clicking the Dashboard icon in the Dock.
If the Slangit Widget does not appear, click the + icon in the bottom left corner of the screen. This will bring up a list of widgets installed on your machine. Browse the list of widgets until you see a dark blue icon with a chat bubble and the text "Chat Reference." Click the icon to activate the widget. Once the Slangit Widget is active, you can hide the list of widgets by clicking the x in the bottom left corner of the screen.
To perform a search using the Slangit Widget, first click inside the search field of the widget. Then type a slang term, acronym, abbreviation, or emoticon and press Return. The appropriate page from Slangit.com will load in your default web browser.
System Requirements
This widget requires Mac OS X 10.4 Tiger or later.
Questions?
If you have any questions regarding the installation or usage of the Slangit Dashboard Widget, please contact Slangit.