Use Social Media to Fill Your TBR
Published December 9, 2022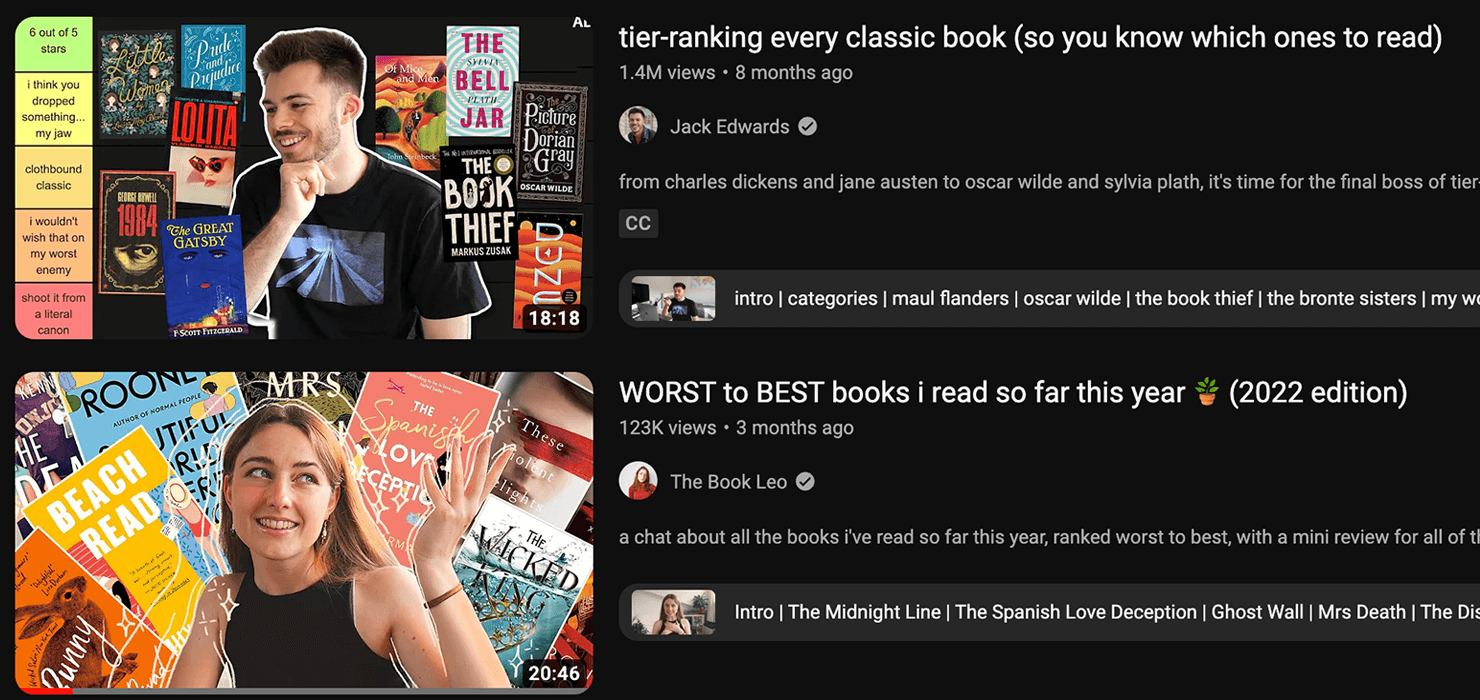 December is Read a New Book Month, which makes it the perfect month to get back into (or start!) reading. If your TBR is currently empty, finding and following book-minded users on social media can be a great way to discover books you'll love. Each platform has its own community of literary enthusiasts who discuss books a bit differently. Below, we'll break down what types of content you can expect to find on BookTok, BookTube, and BookTwt.
Get Quick Reviews and Recommendations on BookTok
If you want book recommendations and discussions that take the form of short videos, TikTok's community of book enthusiasts, known as BookTok, is the place for you. Most of the videos posted on BookTok, such as reviews and Top 10 lists, are fairly straightforward and to-the-point. However, some BookTokers post more off-the-wall content, such as humorous reenactments of their favorite scenes. While this community has a reputation for promoting primarily fantasy, romance, and YA novels, you can find BookTokers that discuss any genre if you dig deep enough. Some BookTokers you might want to follow include @baskinsuns, @earlgreypls, and @schizophrenicreads.
Find In-Depth Discussions on BookTube
If you're looking for more in-depth recommendations, reviews, and discussions, YouTube's community of booklovers, known as BookTube, is where you want to be. Because YouTube videos can be any length, BookTubers get to dive deep into the books they love and explain exactly why they love them. As such, BookTube is great for readers who want nuanced opinions, but less ideal for readers who want a lot of recommendations in a hurry. BookTube also contains lengthy conversations about genre, literary tropes, and other book-related topics. If these sorts of videos sound up your alley, check out Ariel Bissett, The Book Leo, and fictionalfates.
Make Friends on BookTwt
Finally, if you want to find and follow some book-loving moots, joining Twitter's BookTwt community is a great way to befriend fellow readers. If you search Twitter for the #BookTwt hashtag, you'll find users asking for book recs and looking for others with whom to discuss their favorite works. Unlike BookTok and BookTube, however, BookTwt doesn't include many content creators. So if you're just getting back into reading, you may want to start by sourcing recommendations from content creators on BookTok and BookTube, before attempting to make some friends and expand your literary diet on BookTwt.