The Life of an Instagram Husband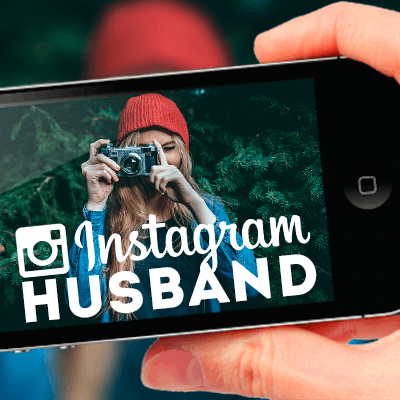 "I vow to always make you look good on Instagram."
Every successful relationship requires hard work and sacrifice. At least that's what Facebook memes tell us. Some of that hard work means taking on different roles at different times, whether it be the breadwinner, chef, accountant, organizer, housekeeper, spider killer, etc. And now with the age of social media fully upon us you can add another responsibility to that list: Instagram husband.
The term was introduced in December 2015 by a Missouri comedy group known as The Mystery Hour when they posted the satirical "Instagram Husband" to YouTube. The video soon went viral and the term began trending on Facebook, Twitter, and of course, Instagram.
While the video only focuses on males suffering as Instagram husbands, the term was created by the group to be gender neutral. It can be applied to any person who is used to take pictures of another person, often a SO known as an Instagram Wife, for the purpose of posting to Instagram. It's safe to say that most men and women have played the role of an Instagram husband at some point in their relationship.
It may not sound that bad of a job. But the occupation is demanding, requiring flexibility to get photos from awkward angles, stamina to take thousands of pictures, an artsy eye to frame the picture and pick the perfect filter, and dedication to be the first to comment on the pic. And if you miss a photographic opportunity, get ready for some serious shade thrown your way.
As an Instagram husband you have the power to show everyone how much you and your partner enjoy life. How else are your Instagram wife's friends going to know whether she thinks her latte is delicious? Or how hipster your bf looks in his new fedora? It's a tough job but somebody's gotta do it.
Unless you just buy a selfie stick.